Fighting Inertia
"When did you get skinny?"
I will never forget those five words hitting me like a punch to the face, as I stood in the doorway to Mike Freeman's office. It was early 2017. I was fifty-one years old. As I absorbed this greeting, I wondered if I had heard Mike correctly. I lost my focus. How does one respond? In the moment, I had to shake off my discomfort, as I was prepping the man who was my boss for a meeting with a downtown business group. The show must go on.
Later that day, I confided in a colleague. I first wondered if I should make a report of some sort and then wondered if I was overreacting. I googled "hostile work environment" and studied the concept of sexual harassment. Was this that? In the end, I did nothing.
I recently read an article in the Star Tribune: "Veteran Hennepin County Prosecutor Receives $190K Discrimination and Retaliation Settlement" and my own experiences in the office came flooding back to me. Amy Sweasy and I both started in the office during Mike's first term. As law clerks in the early 1990s, we joked about our preference for "Law and Order's" Manhattan District Attorney Adam Schiff (not to be confused with the Congressman from California) as the ideal boss. I have to believe D.A. Schiff would never have uttered those words:
"When did you get skinny?"
Amy's complaint, as reported by the Star Tribune, alleged that "Freeman made sexist remarks in a staff meeting, claiming a female attorney in his office had 'the judgement of a toad.' He also stated that 'we already had to let the white girls in because we need someone to keep our feet warm at night.'" The complaint also alleged that he treated female employees differently from males, especially if they "disagreed with him on the handling of a case". The story also said Sweasy claimed Freeman "ostracized" her and "took away job duties".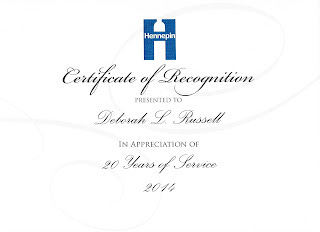 I know only too well what that feels like. In 2015, I was at the peak of my career and one of a declining number of experienced prosecutors in the office. Just a few years earlier, I successfully prosecuted Amy Senser, the wife of a local NFL hero, in one of the highest-profile cases in our office's recent history. Significantly, I had also begun to speak up about directives I could no longer follow, office cultural problems, and professional disagreement with certain charging decisions. 
Shortly after I reported my concerns, I was involuntarily removed from my trial team and assigned to cover a probation violation calendar. While never considering that I might have been subjected to discrimination or retaliation, I experienced an overwhelming feeling of worthlessness. How did I go from prosecuting countless serious violent crime cases, including Amy Senser's, to being sidelined to staff a court calendar of routine probation violations?
The same thing happened to me in 2017, within a month of the "skinny" comment, and that downtown meeting, at which I was complemented for the work I had been doing. Without prior warning, I was transferred to our Civil Division, essentially annihilating all those community relationships I had so carefully forged on behalf of the office.
I retired on September 25, 2020. On that final day, I came in to clean out my office and learned that Mike wanted to see me. Once again, I found myself standing awkwardly in his doorway listening to him talk about himself and my big case.
"And then we rewarded you by sending you to the Civil Division…"
On my very last day working for Mike Freeman, I decided I would not tolerate any more of his gaslighting.
Fighting the queasiness in my stomach, I told him firmly that the transfer was no reward, but instead, represented the absolute worst day of my career. I then described how I shut myself in my office that day, so nobody could see my tears as I came to grips with losing an assignment I cherished.
He was unmoved and swiftly changed the subject.
Amy's career took a different trajectory from mine, and we did not have much contact during my last few years in the office. As I read the reporting on her settlement with Hennepin County, my heart ached for her. I then caught my breath as I read Mike's response:
"In 24 years, and among thousands of employees, no claim of discrimination has been found to be true."
Mike is, first and foremost, a politician. The thing about men in power is that they maintain that power with these types of statements. When I consider his "greeting" to me back in 2017, I now see it as a deliberate attempt to knock me off my game.  Another thing: Mike would never make that comment to a man. While my story may seem inconsequential, I believe in my heart that there are many more women who, like me, experienced disturbing conduct, but opted to not take any action.
I am so proud of Amy for doing what the rest of us could not find the strength to do. My hope is that this is the beginning of a new era for the Hennepin County Attorney's Office: one where women are respected for the work they do and the talents they possess, rather than being characterized as foot warmers and toads.
It's 2022. It shouldn't be that difficult.