Discover more from Debbie's Stories
Random thoughts about what it means to be human.
You might not guess it, but I'm a huge Shinedown fan. Brent Smith's powerful writing and vocals, combined with the soaring musical journeys created in each song, have always resonated with me.
Shinedown's first major hit, "Fly From the Inside" arrived in 2003 and included this chorus:
I found a way to steal the sun from the sky,
Long live that day that I decided to fly from the inside
In a 2004 interview, Smith shared the meaning behind "Fly From the Inside," saying:
"It's about having an unattainable dream that maybe the people around you are telling you that you can't accomplish and you're never going to succeed at it, and maybe they're being that way towards you because they didn't go after THEIR dreams. And "Fly from the Inside" is just a metaphor about believing in yourself and going after anything that seems unattainable. You have to at least try for it...because you'll be kicking yourself in the ass if you don't!"
You can read his entire interview here.
Shinedown, and Smith specifically, have endured for two decades. Their latest single, "A Symptom of Being Human" captures the universality of feeling completely out of place or helpless.
Over the last month, I realized the primary source of my emotional malaise was that I had forgotten how to fly from the inside. I was still chasing external validation in the form of book sales and reviews. Rather than basking in the joy of actually having published a really good book, I moved the goal posts. I thought that somehow I'd be thrilled with fifty reviews. But now I want 75. I thought I'd be thrilled with 500 sales. But now I want 1,000. Every time I achieved something significant, my brain found a way to discount it.
It's crippling, y'all. But actually, not unusual. It's just another symptom of being human.
In late August, I did a thorough search of my soul to figure out what feeds it. I asked myself the question "what is it that brings me purpose and joy?" I discovered it was resuming the research of my family history, sharing time with my boys and exploring the rest of world. Well, maybe for now, just the rest of the country. In the middle of September, I took possession of Billy the Travel Trailer and Daisy the Durango. The lightning speed with which these major purchases happened gave me no time to reconsider the prudence of such acts.
I then took a very short trip to a state park in Waterloo Iowa and figured out just how Billy worked and how hard I could push Daisy before she resisted. The best part was the side trip to Chariton, where I visited the gravesite of my great grandfather and, with the help of the current vicar of the tiny Episcopal church, obtained a sense of how much Joseph Russell impacted his church and community.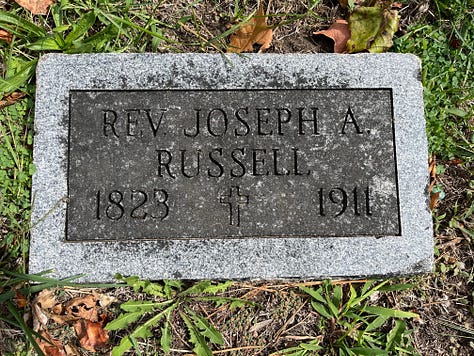 Fresh off that triumph, I participated in an amazing conversation about Crossing Fifty-One and talked about the shame of family secrets—in my case, several generations' worth. Even the bookstore manager commented on how riveting the discussion was.
On the way home in the pouring rain, I basked in the connections that were created within that space and time, and realized that anytime the book achieves those moments is a huge win that's WAY more impactful than sales or reviews.
---
This month, instead of my usual book suggestions, I'm going to recommend a podcast. My October pick is from fellow Minnesotan John Moe. I've not yet read his book, The Hilarious World of Depression, but it's in my Kindle TBR queue. I was really moved by his interview with Felicia Day. It turns out, success does very little to alleviate perfectionism and anxiety. Who knew??
I also recommend his interview with Meg Kissinger, award winning journalist and author of While You Were Out: An Intimate Portrait of Mental Illness in an Era of Silence. I've put a hold on it at my library and look forward to digging into Meg's research of her own family history.
---
Finally, I send my sincere thanks to all of you who have upgraded to paid subscriptions and provided book ratings or reviews. (If you've been meaning to, you can post a review here.) You reinforce for me that my writing has value.
Tell me…how will you fly from the inside?
Until next time ~
Debbie