Nostalgia and the Power of Music
The band was wrapping up the last of the sound checks, meaning the show would start in a matter of minutes. I'd said I was just running to the restroom, but here I was…stopped in my tracks, my heartbeat increasing in anticipation.
I'm just waiting for him to go on so I can snap a pic
I shot a quick text to my friend Laura; in case she and her husband Pat became concerned at my prolonged absence. After all, I left them at a well-situated table for people of our age to listen to Stephen Pearcy, billed as "The Voice of Ratt." 
If you are, as I am, a member of Gen X, you will have at least heard of Ratt. They were one of a number of heavy metal "hair" bands who ruled the stage in the mid to late 80s. I will proudly admit to being a huge hair band fan, even though I never looked the part. It's fascinating to me that a few of the bigger hair bands are selling out stadium tours this summer. I've watched some footage of those concerts and - sorry to say - cringed, as the lead singers struggle to hit the notes they were once able to screech so effortlessly back in the day.
The rockers are old, just like us. But those that are still out touring and performing create the illusion that they are not old. Or at least they are giving it their best effort. Just last week there was a debate on social media over the wisdom of the B52s headlining a 4th of July concert. Apparently some felt they were past their prime. 
These aging musicians can continue to command audiences because we remember the music. Music is an extremely powerful conveyer of nostalgia. We can all hear that song on the radio and be immediately transported to a specific time and place from the recesses of our past.
For me, that place is Wisconsin and that time is mid-late 1980s. I get nostalgic every time I visit Wisconsin – the state where I grew up. I get nostalgic every time I hear music from the 80s. I get nostalgic just thinking about Summerfest.
Summerfest is one of Wisconsin's gems. At one time, it was declared the biggest music festival in the world. Conceived in 1968 by then-mayor Henry Maier, it became the not-to-be-missed summer event by the time I was allowed to attend my first one in 1984 (strict parents and all). I don't remember much about that concert except that Huey Lewis and the News headlined and the experience was super fun.
1984 was thirty-eight years ago.
Since then, I've been to Summerfest at least twenty-five times, always with my college besties Pat and Laura. It's become a tradition almost as sacred as family holiday gatherings, only without the stress. Summerfest provides an opportunity to relax, enjoy Milwaukee's spectacular lakefront, listen to some bands of varying quality, eat mostly good food, and drink cold beverages. 
After a six-year hiatus, during which Pat and Laura moved away and then moved back, and a pandemic swept in and shut everything down, we made our triumphant return.
How would it be?
The band lineup was not optimal for the one weekend we could all make it work. But it was more about nostalgia than anything else. Personally, I couldn't be more excited that "The Voice of Ratt" was playing a 6:15 p.m. show on a small stage at Summerfest in Milwaukee. I haven't been out to hear a live band in ages. I go to bed at 10:00. We joked that this schedule was going to work out just fine.
We got there shortly after they opened the gates. That's when the old people arrive.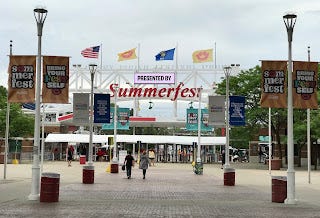 Wait, we are the old people.
We paced our alcohol consumption. Turns out, during the hiatus, Summerfest did away with the red and white wine coolers for $2.50 and replaced them with $10 beers and $20 craft cocktails. It was a bit surreal to see new stages and food offerings along with the new fancy expensive beverages, but one must either adapt or be left behind.  This meant no crawfish for Pat. To be honest, I wasn't going to miss the spectacle of him sucking their heads.
But I digress...
We sat through a couple of songs by another band from our past, The Smithereens, whose lead singer had passed away in 2017. Truth be told, the new guy didn't quite measure up. But we gamely sang along until it became just a bit too much. We also listened to a couple more lesser known but really good bands. It rained a little and we watched people don those large plastic bags passing for rain gear. 
After dinner, the rain lifted, and there I was, frozen, waiting for "The Voice of Ratt" to take the stage. I checked out the audience. It looked about right.  After all, we Gen Xers are now parents and grandparents. The men are losing their hair and the women are coloring theirs. Many of us, me included, have opted for sensible shoes, although the bikers can still rock out in tight leather and stilettos. We had gathered here, hoping that "The Voice of Ratt" could transport us back to a time when we were carefree and had few, if any significant responsibilities. A time before physical, mental, and emotional scars would burden our bodies and souls. 
I am pleased to report that Stephen Pearcy did not disappoint. My guess is he colors his hair. He also has managed to keep the weight off, and I don't dare speculate on how. But once the opening chords of the first song crashed down upon us, the audience went wild. Or maybe it was just me. Standing there, all by myself, pretty much sober, I danced like I haven't danced in years. Actually, it was more of a shuffle, due to all the arthritis, but I found myself inexplicably filled with joy.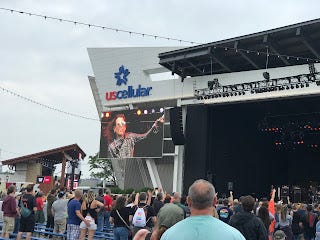 I don't think I'm coming back
As I hit "send" on the text, I noticed my phone battery was down to 5%. I briefly considered what might happen if I lost contact with Pat and Laura. If worse came to worse, I would just go to the car. Isn't that what we would do back before we had cell phones?
Halfway through, Pat and Laura found me. They indulged my dancing, and then, before I knew it, the show was over. Pat and Laura picked up one last souvenir, while I listened to a pretty awesome cover band playing more songs from our youth, and then we called it a day. Walking back to the car, we dodged the incoming crowd arriving for Wu-Tang Clan and the other headlining hip hop acts.
Good for them, I thought. More nostalgia for those who can stay up late!