Discover more from Debbie's Stories
Random thoughts about what it means to be human.
Online Reading is a Contact Sport
 Gucci
5G Verizon
State Farm
Discover Card
Some sort of felt wool bunny stuffed toy thing
*** 
I recently spent a leisurely Sunday morning sipping my coffee and reading one of my two free articles from the New Yorker. Much as I would like to subscribe to all my favorite magazines, my current financial situation will not support it. Years ago, as a law student with even fewer financial resources, I subscribed to the New Yorker as a means to convey an image as an intellectual - not that anyone actually bought it. I would read the latest issue on the bus ride to and from school, rarely finishing one before the next arrived in the mail.
But I digress…
These days, with the exception of the Sunday paper and magazines put out by AARP, Northern Gardener and Minnesota Conservation, I do most of my reading online. The difference in experience could not be starker. For the most part, I'm able to focus on whatever it is I'm reading, as the ads are adequately defined. I will get derailed if the ad is for something I like, or, in the case of the creepy algorithm, for something I've previously purchased. That happens with a paper version as well, but thankfully, there's no way to click on the paper and get sucked in to spending more money I don't have.
When I started writing for a certain online magazine, I did so believing they were a good fit for my writing. They describe themselves as follows:
We're community-driven. We're dedicated to sharing "the mindful life" beyond the core or choir, to all those who don't yet know they give a care. We focus on anything that's good for you, good for others, and good for our planet.
If I had to describe my writing to a stranger, I'd say I write about my own experiences as a way to share the human condition with others. I write about what it is like to feel flawed, and then push through that feeling, by learning from and appreciating everything life has to offer. In other words, I aspire to the mindful life. 
My last piece for this particular magazine was, in my opinion, rather timely. Russia was on the brink of invading Ukraine and grocery store shelves were, once again, not well stocked. I was struggling with how to cope with a world that seemed to be spiraling out of control. I wrote about how I adjusted my lens to focus on things I could control. I try not to lecture others how to act or think, rather, I share what works for me.
To be honest, I thought it was pretty good.
When it was published, I sent it around to my friends.
Shortly thereafter, one sent me this screen shot: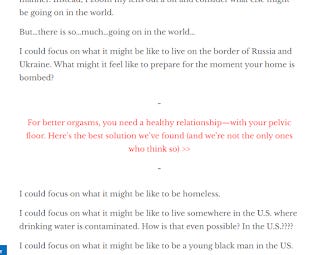 She found it funny.
I did not, as it was not the first time this particular "ad" had been dropped right in the middle of my article. The previous time, I wrote about the importance of mental strength when rehabbing from injury. When I sent it to my personal trainer, she responded: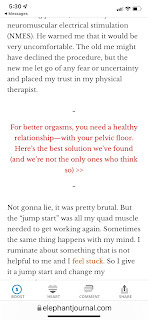 Geez. What was it about my writing that attracted this particular ad? I wasn't writing about anything remotely related to sex and sexual health. I decided to address this in a Facebook group of writers for the magazine. I suggested that I was considering other options for publishing my articles.
The initial responses were supportive and pretty affirming. One writer said "advertising is one thing on the site if the reader is not a member, but in-line 'quotes' like this are unacceptable."
However, backlash soon followed. It was surprising, to say the least.
I was called "entitled" and admonished to be grateful for the opportunity to publish my writing. One fellow writer went as far as to say she was "appalled at the self-righteousness here." I was also informed that ads were a part of keeping the business afloat and that the editors had no control over what ads were placed where. At the same time, I was invited to correspond privately with one of the editors.
"Hi Debbie, this is what we call an in-line ad and it's for one of our Mindful Partners, companies that we're proud to work with and that help keep [magazine] in business so we can publish and share mindful stories from authors like you."
Ultimately, the owner himself entered the Facebook discussion, as several other writers were now espousing the same thoughts and feelings that I had. One reader commented that a similar ad had popped into her story about grieving for her dying grandmother. Another pointed out that the "ad" doesn't even look like an ad, it looks like part of my content. One person thanked me for my post, saying it gave her the courage to bring up her own concerns with the editorial staff.
Wait…courage?
At this point, the entire experience of being a writer trying to find a home for my pieces came sharply into focus. As did this particular platform on which I was trying to compete for readers. Did I mention that I was advised to promote, promote, promote, as a way to boost my score and possibly qualify to be paid?
I did that with my very first article and made $50. This time around, I felt like the institution was shifting in such a way that no matter how hard I tried, I was not going to get the readers. It didn't help that I personally hated the way the "ad" was placed in my piece. I spent a fair amount of time setting up my profile, recruiting followers as well as paying for my own subscription, which, should spare me from the ads, right?
No such luck! Every time I logged into my account, I encountered this banner…right across the top of the page:
WHAT'S YOUR SEXUAL ANIMAL? FIND OUT HERE >>>> 
At some point, my overactive brain went into high gear, prompting me to ask the editorial staff if, perhaps, I had misunderstood the gist or direction of this particular magazine. At least with respect to my account and my articles, I seemed to be drawing only one type of mindful partner.
In the end, the editors pulled all ads for my article. Not surprisingly, my piece never gained any traction, despite all my efforts. I did, however, gain an acute awareness of the atmosphere in which I had inadvertently stepped when I questioned the ads in the first place. The ensuing comments ultimately convinced me it was an environment I no longer wished to inhabit.
For now, my writing is homeless, except for right here.
I will keep looking for spaces to share my pieces. Truly, I'm not that picky. I understand a business needs revenue. If Gucci wants to plop an ad in the middle of one of my articles, you will not hear a peep from me!