Discover more from Debbie's Stories
Random thoughts about what it means to be human.
To All the Dogs I've Loved Before (Part 2): Molly
 She was not at all what I expected.
I had turned 32, purchased a house with a back yard, researched breeds and breeders and thought I had it all figured out. After all, I had been planning for my first dog like many people plan for human children. Initially, that first dog was to be a West Highland White Terrier. They were adorable, full stop. 
Then I started researching the breed. Turns out, terriers are challenging, to put it mildly. Thankfully, I've always had a certain self-awareness that, while limiting at times, also is a decent guiding force. It didn't take long for me to realize that I simply did not have the chops for a terrier. 
I then moved to my next favorite breed; the golden retriever. I loved the idea of a placid friend to come home to, after a tough day being a lawyer. I even had the fake fireplace, in front of which, my dream dog would lay contentedly while I unwound with a glass of wine and a book. I began the breeder investigation all over again. Luckily, a friend/colleague, along with her husband, had done all the research for me. I visited them and their dog, who was a delight. I got on the breeder's list, and at the end of March, 1998, right after finishing up a year-long assignment as a public defender, I brought my puppy home. I named her Molly. I have no idea why, at the time, it just seemed to fit her.
I should mention that, during that year I spent as a public defender, I made some new fun friends. These fun, childless friends went off on a really fun trip to Vegas the same week I was picking up puppy. In essence, I became the first "parent" who had to sacrifice a fun time for the responsibility of another life. 
Did I mention that these friends were fun? They threw me a puppy shower, where others brought their dogs and it was a super fun time. Then they all started having human babies, and the fun times were scaled back into more sporadic affairs, each of which revolved around the availability of babysitters.
But I digress…
Before Molly, my only prior dog experience was with the sweet, mild-mannered Muffin. She was the salve to my angst-ridden adolescent soul. As Molly grew physically, her enthusiastic, rambunctious personality exploded. I panicked. I had no idea how to manage all of this energy. I learned about choke chains and alpha rolls and all sorts of questionable methods for managing a dog that I would later learn came out of field lines. 
Living in the city, I had to quickly decide how I was going to manage my wild child when taking her for walks. After quickly discarding the choke chain, I settled on a Halti Headcollar, which was supposed to control her lunging by turning her head, rather than pulling on her neck. I will never forget one of the first times we tried it out, as she hurled herself onto the ground in the middle of the intersection while we attempted to cross the street. A car had stopped for us, and I was convinced the driver would be contacting the humane society, animal control, or maybe even the police. 
I enrolled her in obedience class, but merely walking her in heel position was a debacle. She lunged and jumped, trying to get the treat out of my hand as I worked to lure her into proper position. 
When Molly was three, I attempted to train her in agility. We managed to get through several sessions before the instructor recommended I take her back to obedience class. Along with humiliation, desperation set in. I loathed obedience. It seemed as though there was going to be very little I could do successfully with my overly enthusiastic first grown-up dog.
When she turned four, after a couple of episodes where she acted out on her separation anxiety (or maybe it was just boredom?) I got Molly a puppy…a silly cockapoo I named Josie. (More on her in Part 3). Molly loved her little sister and tolerated a lot of puppy nonsense. 
Then, when she was five, we discovered flyball.
I remember walking into the facility for the first time and almost being overwhelmed by the energy. It was Molly's energy! The dogs were crazy…barking, lunging, tugging, and having the time of their lives going down a lane of four jumps and getting a tennis ball out of a spring-loaded contraption of some sort.
Molly picked it up in no time and was actually pretty good! For the next few years we had a wonderful go of it.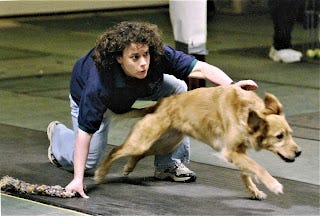 Then she tore her ACL.
While she acted like it was no big thing, I could not help but be concerned at the fact that she would put no weight on her left rear leg. After a consult, she underwent surgery and a long, slow, rehab. Keeping her calm was not easy. Doing figure eights and diagonal hill work challenged us, but we stuck it out, and Molly went back to flyball for about six months before completely tearing her other ACL. I had been advised to expect it, but nonetheless could not contain my disappointment.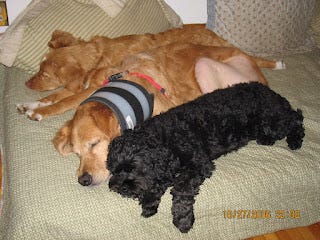 Fortunately, this surgery and rehab went quicker than the first and she continued to enjoy life with her typical vigor. By this time, I had added Casey Mae to the pack, who quickly developed into quite a little field retriever. I began to realize how fabulous Molly would have been at that game, had I only known about it when she was young. 
One day in late August, I drove all three dogs to a large cattle farm to meet a friend and work on CM's retrieving. My vehicle, a 1999 Saturn coupe, was completely unsuitable for transporting a three-dog pack through the bumps and ruts of the property's primitive trails. It had, however, been the perfect vehicle back in 2000, when Molly and I took our epic road trip together out to the Badlands, Black Hills, Yellowstone and the Grand Tetons. She slept contentedly in the back seat, her head resting on the picnic basket, while I navigated the sometimes-treacherous mountain highways. 
But it was now 2008, and Molly was mostly retired, while I focused the bulk of my training energy on CM. After finding the perfect spot to practice some retrieves, I left the car windows down, as the weather was pretty warm. I lined CM up for her retrieve, my friend blew her duck call and threw the bird. Before I knew what was happening, Molly ran by us at full speed, on her way to pick up the bird. 
She had, quite literally, jumped out of the car window.
Two months later, she hit a big milestone in flyball. We celebrated. In between races, I took her out to cool off. Molly loved to make snow angels and there was just enough snow for that.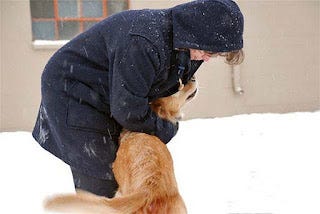 I noticed that she seemed slower than normal, so decided to have her evaluated by a chiropractor, thinking she might have injured herself during the car escape incident. One thing led to another, and within the span of a few short weeks, she was headed for surgery to have her left eye removed. I approached this with as much stoicism as I could muster. I knew a one-eyed dog who ran flyball just fine. I reminded myself that dogs do not understand, nor do they bring emotional baggage to their physical condition that we humans do. They do feel physical pain, though. It was imperative that I alleviate the pain Molly felt in her eye.
When surgery day arrived, her system crashed and the optic surgeon called me to come get her. We drove directly to the U of M emergency department, where a veterinary student laid the devastating news at my feet: Molly was full of tumors – hemangiosarcoma. It was unlikely she would make it to her eleventh birthday, which was less than a month away.
The ER personnel drained fluid from her heart, temporarily transforming Molly into a new dog. She was ready to play again. But for me, it was as though the heaviness from her heart was transferred directly onto mine. I tried valiantly to be grateful for the gift of those last few weeks. I memorized every little thing about her. I took her for solo walks in the cold, dark January evenings.
I was scheduled to start a first-degree domestic homicide trial at the end of January. When I emailed the judge to give him a heads up that I might have to miss a half day due to the impending death of my dog, he chastised me for the informality of my communication, and made clear that he was not inclined to grant me any dispensation. "We can't inconvenience jurors…" was his bottom line.
Mercifully, Molly left me on a day I didn't have to be in court – Martin Luther King Day, 2009. The tumor on her heart burst, rendering her mostly unconscious. I sat on the floor with her, attempting to read jury questionnaires while giving her permission to die. And so, she did, just as my dear friend and neighbor was warming up his truck for us to take her to the vet. 
I remember letting Josie and CM come in to say their goodbyes. I shouldn't have gone to the effort. It was fascinating – almost like there was a force field around Molly's body that neither dog was willing to breach. I know people whose dogs will look for the one that is gone, or go off their food, or somehow express the loss of a member of the pack. That did not happen at my house.
In the end, it may have been for the best. My two remaining pack members pushed me through my grief, demanding that I focus back on them after ignoring them during the last weeks of Molly's life. It wasn't easy, but with time, all the wonderful Molly memories began, slowly but surely, to dull the pain in my heart.
As my first grownup dog, Molly taught me so much about patience, perseverance and resilience. She taught me how to be responsible for something other than myself. She taught me that dogs will never live as long as we want for them to live.
Knowing that, I cherish each day with the ones who are here right now, with their tight grips on my heart.