To All the Dogs I've Loved Before (Part 3): Josie
As Molly (see Part 2) approached her fourth birthday, I decided the best gift I could give her was a puppy. Molly had never done well being left alone all day while I was at work. Although she had a room with a window, this room provided far too many opportunities for destruction. One day, I came home from work to find that, for some reason, she chose to shred military orders for my two weeks of active duty. Perhaps that was her way of protesting my impending absence?  
Most dogs are pack animals, and sporting breeds like to be with their person. Because my job did not allow for that, my decision to expand the pack seemed to be the next best thing I could do for Molly.
Now, looking back on all the "planning" I did for the new addition, I cringe with embarrassment: so many choices that were so utterly random. I had a big dog; I now wanted a little dog. I had a golden/yellow dog; I now wanted a black dog. As a child, I loved the best cockapoo in the world, now I would get another who would be just like that perfect cockapoo because all cockapoos are perfect, right?
By 2001, the internet was a great source of information, so all I had to do was type "cockapoo" into whatever search engine was available at the time and all of a sudden, the choices seemed limitless.
Turns out, there was a black cockapoo puppy waiting for me, just outside of Green Bay, WI. That was a sign, right?
So… on a cold winter's day, my parents and I set out in their Buick Park Avenue for the drive across Wisconsin to pick up puppy. We even made a bonus stop at Lambeau Field, a place I had never visited, despite growing up three hours south and being a huge Packers fan…
But I digress…
After spending the night in a Green Bay hotel, we ventured out into the country and found the farm that was home to the litter. It was quite quaint and seemed perfect. The puppy, whom I named Josie was adorable (NOTE: all puppies are adorable). We bundled her into a cardboard box and I sat in the back seat with her in my lap while Dad navigated the trip back home to Minnesota.
It was love at first sight when I introduced Josie to Molly. Despite the size difference and my propensity for worry, things went smashingly. Almost too smashingly…my bungalow, after all, was still small and puppy chasing resulted in furniture and other things being knocked about. Also, there was the small matter of containment…or in my case, lack thereof. I will never forget that queasy feeling coming over me as I glanced out the back window and realized my dogs had disappeared. I bolted out the back door just in time to observe the two of them strolling into the neighbor's garden, two houses down the block. 
That would never do.
It's that very scenario that prompts most breeders and adoption agencies ask if the potential owner has a fenced back yard. Josie's breeder made no such inquiry of me.
Deeply chagrined, I dutifully hired a pricey contractor to fence my backyard. From then on, all fun and games would be restricted to my own property.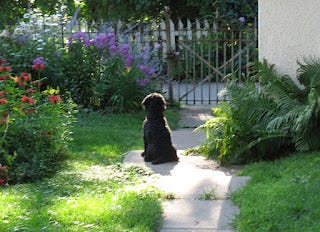 After completing puppy and beginner obedience classes, I decided that Josie should also participate in agility and flyball. By that time, Molly was a pretty good flyball dog and absolutely loved the sport. Back in those days, little dogs were a valued asset to any flyball team, as they determined how high the jumps would be for the rest of the dogs on the team. I was excited for the opportunity to provide such a dog for my team.
There was just one problem. 
Josie had no interest in balls. Oh, she might occasionally grab one and carry it around, but it was only to play keep away with Molly. We went to flyball practice and one of the team members told me I would have to "force fetch" her, and demonstrated by cramming a little ball into her mouth and gripping her mouth closed around the ball. 
I was horrified.
Taking a different approach, I boiled small tennis balls in beef bouillon, smeared them with Braunschweiger, peanut butter, and any other tantalizing substance I could think of – all to no avail. 
Josie's flyball career ended before it ever began.
We also tried agility. At an outdoor class, the instructor recommended attaching a clothesline to her collar, so we could catch her when she ran off. Apparently, I had not yet learned how to train a decent recall.
Oh, how Josie loved to run around - providing much entertainment for anyone who was lucky enough to see it. They called it "the zoomies." Most onlookers would chuckle and tell me how much fun she was having. As I began to learn more about dogs and dog training, I came to ponder whether it was fun, or actually a manifestation of stress. To this day, I'm not sure how much fun agility was for Josie.
She was almost five when Casey Mae (CM) joined our pack. Molly was eight, and within six months of CM's arrival, tore her ACL chasing after a ball.
All of a sudden, Josie was Marcia Brady - the middle child - stuck between the rehabbing old dog and the most brilliant puppy ever, who had the capacity to make a very novice trainer look good. Josie moved into her role as mascot with great enthusiasm, and never seemed to mind that more attention was being directed at her older and younger dog sisters.
Two years later, after Molly died, Josie and CM's relationship was uneasy at best. I remember Josie's groomer calling me when he found several tiny puncture holes in one of her earflaps. She always wanted to start something and apparently CM was the one who would finish it. I rarely saw the skirmishes, which meant they were happening when I was at work.
In 2010, the American Kennel Club decided to allow mixed-breed dogs to compete in AKC licensed events. Casey Mae was competing at an advanced level, and a friend suggested that maybe, at the ripe old age of eight and a half, Josie might be able to take competition a bit more seriously. We entered a local trial and, wouldn't you know, Josie became one of the first mixed breed dogs to earn a qualifying score. She even took first place in her class!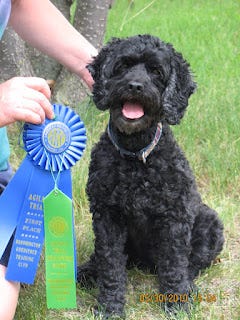 I'd have to go back and check to see whether she ever got a title. That's the thing about titles, ribbons and Qs…after a while, they mean very little in the grand scheme of my life with dogs. What makes me smile when I remember Josie, is how she was always up for a good time.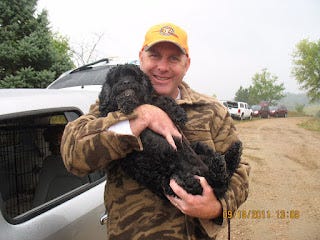 Josie died in 2012 - the same year I went to the AKC Agility National Championship with CM and welcomed a flat-coated retriever puppy named Jet into the pack. My views on dog ownership were changing, as I began to understand the difference between a "pet" home and a "performance" home.
More on that to come...