Discover more from Debbie's Stories
Random thoughts about what it means to be human.
To All the Dogs I've Loved Before (Part 1): Muffin
It was the summer of 1974. I was eight, going on nine. My parents decided it was time for our family to add a dog. They also decided, for reasons unbeknownst to me, that the puppy was to be a cockapoo. It's possible they figured a cockapoo would be close enough to Benji, an adorable mutt who starred in the blockbuster movie from the same year. Benji was ridiculously cute, as well as being a most excellent problem solver.
I remember visiting the breeder and seeing a scrum of honey-colored puppies cavorting in a fenced area. Off to the side, one stretched out in a patch of sunlight, serenely observing her rambunctious siblings.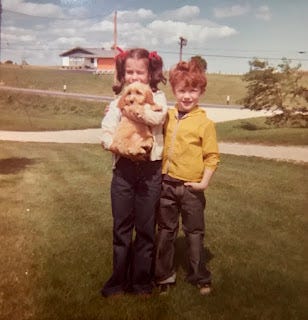 She would be the one that rode home with us, nestled in a blanket between my brother and me. My mom had created a list of about twenty-five puppy names. Taffy, Honey, and Bubbles were among the finalists. I think she was Taffy for about a week before finally and permanently becoming Muffin.
When we got her home, we took her down to the basement where my dad had constructed an area bounded by green wire fencing. I brought one of my little chairs into that area and sat with Taffy/Muffin in my lap until both she and my right arm fell fast asleep. Right there, a fourteen-year friendship between a girl and her dog was born.
This friendship was likely my best and most stable over the course of those fourteen years. After all, Muffin offered what all dogs provide: unconditional love. Then, in 1988, shortly after Christmas, she quietly succumbed to old age, shattering my heart into a million pieces.
At twenty-two, I had yet to experience a significant loss of any kind, so, in an effort to process all the grief that had nowhere to go, I wrote about it: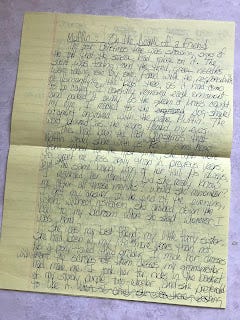 * * *

The poor Christmas tree was showing signs of the toll that the season had taken on it. The scent was fading, and the tired green needles were falling one by one. Faced with the responsibility of dismantling the "kids" tree, as it had come to be called, I carefully removed each ornament and packed it away. As the gleam of brass caught my eye, I reached for the dog-shaped ornament engraved with the name "Muffin." The word blurred as tears flooded my eyes.
This had been the last Christmas that Muffin would share with us. When I came home from school for the last time, she was there to greet me, less agile than in previous years, but with the same happy wag of her tail. As always, I regarded her carefully. Did she really know me after all those months? Would she remember? I got my answer at the end of the evening when, without hesitation, she ambled down the hall to my bedroom where she slept whenever I was home.
She was my best friend; my little furry sister. She had been in my life for more years than not. As a pony-tailed third grader, I made her dresses with the scraps from dresses my grandmother had made me. I took her for rides in the basket of my sturdy purple two-wheeler, and she pretended to like it. She came to my birthday parties and I threw parties for her birthday – complete with candles in her dog dish. I taught her all the tricks that Benji and Boomer could do and tried to send her to Hollywood by faithfully sending two contest entries every week for an entire summer.
As I got older and more preoccupied with high school life, she remained a constant friend. When Dad picked me up from club meetings or sports practice, she was there, riding quietly in the back seat as always. As I stayed out later, she waited up with a quiet patience that I could never teach my parents. Finally, when I left for college, she never forgot me.
For some reason this year, I felt the urge to take many "Muffin" pictures. Muffin in the snow, Muffin under the tree, Muffin opening presents. "Because," I told my parents, "You just don't know how many more Christmases she'll be with us." It was said with an understanding that seemed to escape me as I sat staring at the tarnished ornament.
If I had gone back for an extra semester, I would have been far away from the sadness that filled the house in the last weeks. It was a situation I had always hoped for with all the hope of a coward. She gave me the best years of my life. She shared in my victories, and in defeat, when I cried, she was there – pushing a cold nose into a tear-stained face. Why, then, is it that now I must cry alone? Why did she have to leave me with a fading childhood and an uncertain future? Why can't dogs live people years – decades of them?
Pushing my tears aside, I saw the once beautiful Christmas tree and remembered the magic and joy of this past Christmas. And I slowly realized that, as real as the holiday snapshots of Muffin are, so is her spirit which will never leave us, as long as we remember. And the famous phrase "time heals all wounds" is with me as I think of Muffin…and know that soon I will not cry, but smile.
                                                                    * * *

I left home for good in 1988. Even though it would be over a decade before the next puppy wriggled into my life, somehow I always knew that I was that girl whose heart connected best with dogs.
Some of us are just wired that way.